Details
"Extreme Protect SPF 30 provides extraordinary protection by combining broad spectrum UVA/UVB protection and powerful antioxidants to mitigate oxidative solar damage. Featuring microfine Zinc Oxide and microencapsulated organic active sunscreens, Extreme Protect SPF 30 offers advanced sun protection."
Benefits
Provides unprecedented multilevel broad spectrum UVA/UVB protection
Protects against environmental damage with Extremozyme technology
Reduces the appearance of erythema (sunburn)
Hydrates, smooths and softens
Diminishes the appearance of fine lines & wrinkles
Provides an antioxidant-rich protective barrier
Application
Apply liberally 15 minutes before sun exposure. Use a water resistant sunscreen if swimming or sweating. Reapply at least every 2 hours. Sun Protection Measures: Spending time in the sun increases your risk of skin cancer and early skin aging. To decrease this risk, regularly use a sunscreen with a broad spectrum SPF of 15 or higher and other sun protection measures including: limit time in the sun, especially from 10 a.m.-2 p.m.; wear long-sleeve shirts, pants, hats, and sunglasses. Children under 6 months: Ask a doctor.
Thymine Dimer Formation
Thymine Dimers are formed when cells experience damage from free radicals. Aging is accelerated and cancer may occur as this DNA damage progresses. Sunlight is a particularly rich source of free radicals that damage skin at all levels. A decrease in thymine dimer formation with application of Extreme Protect SPF 30 shows protection from the forces encouraging cancer development, aging, and severe genetic damage within the skin cell.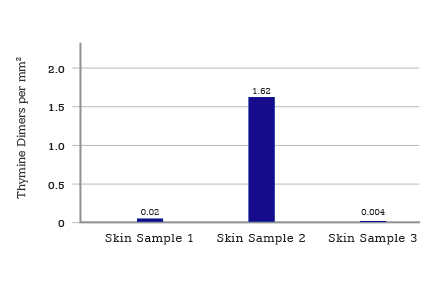 The graph indicates a number consistent with high-intensity thymine dimer formation when skin is exposed to full-spectrum light but without application of Extreme Protect SPF 30 (Skin Sample 2). The skin samples without sunlight exposure (Skin Sample 1) and with sunlight exposure after use of Extreme Protect SPF 30 (Skin Sample 3), respectively, both indicate low-intensity thymine dimer formation. In fact, with use of Extreme Protect SPF 30 before exposure to full-spectrum sunlight, there were almost zero thymine dimers produced.